Familysearch.org archive nearly four and a half billion images in what is claimed to be the largest collection of historical documents. The number of records is constantly rising. They are not all indexed by name though so finding the image you want can be troublesome – needle and haystack springs to mind.
Many of the records found on Ancestry.com, Findmypast and My Heritage will be sourced from the Latter Day Saints (LDS) organisation whose genealogical arm is Familysearch.org. The transcriptions from these records are often there but the images of the documents on which the data are based is not. There are presumably contractual obligations in place which control image availablability.
An example ….
The marriage of John Last and Ann Aldern
The following clip courtesy of Ancestry.com shows 'No image, Text only collection' .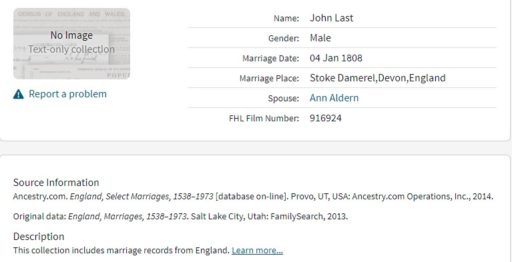 John Last married Ann Aldern on the 4 January 1808 in Stoke Damerel, Devon, England. At the time of their marriage Stoke Damerel was part of historic Devonport, Plymouth.
The source record clearly shows the original data as being from FamilySearch, 2013.
A search of the catalogue on Familysearch.org provided the opportunity to view the image at a Family History Center. That is not a practical proposition for many people at the best of times and certainly not for me. My nearest centre is too distant and more significantly only open for a couple of hours one day a week; and when volunteers are available.
So, could I find the an image of the parish register entry amongst the four and half billion records in the FamilySearch archive?
This is the direct link to the image collection https://www.familysearch.org/records/images/ ; searching by place ie Stoke Damerel revealed 110 sets of records. Record 100 for Stoke Damerel, Devon – 1805-1808, Marriage Records, 401 images, image number 340 provided the imaged needed.
---
Here is the revised transcription
No. 2954. John Last, Seaman of His Majesty's Ship Penelope & Ann Aldern, of this parish, Widow married in this Church by Banns this Fourth Day of January in the Year One Thousand Eight Hundred and Eight By me John Hawker, Curate. This Marriage solemnized between Us followed by the marks of the bride and groom. In the Presence of Garland ???? and ? Wm Roberts.
There is certainly more useful information here than on the original transcription, notably the occupation of John a mariner, his ship and the marital status of widow Ann.