Familysearch.org hold an archive of over four and a half billion genealogical images for which they have not created indexes. Some of those images have been indexed by other organisations who provide a transcription of the record but do not make the image available probably for contractual reasons. The images may only be made available at Latter Day Saints – Familysearch family history centres or centers.
There is another potential scenario – some of the transcribed records have been indexed by Familysearch but not directly associated with the image from which the transcription was derived. Whether that's intentional or not is unclear.
To illustrate my last blog post I used the record of a John Last. The image which I have repeated here (image 1) is for his marriage so we have John Last, marriage 4 Jan 1808 in Stoke Damerel, Devon, England, spouse Ann Aldern and FHL Film Number 916924. As you can see from the attached snipped record 'No image Text only collection'.
A search on the catalogue or catalog at Family Search was my next step – familysearch.org – search – Catalog – search for Film/Fiche Number – enter 916924.
That yielded the following result
Parish register transcripts, 1595-1837
The record is held in a collection 'Marriages 1793-1809 held at the Family History Library British B1 Floor. The symbol adjacent to the record indicates that the image is available but only available at family history centers. It's locked for most of us.
Their website is ambiguous. The transcribed and indexed record is quite clearly marked 'No image available'. However, the image record says it is available but only in selected libraries.
The challenge was to search through the backdoor amongst the allegedly unindexed records.
Could I find it?
This is the direct link to the image collection https://www.familysearch.org/records/images/
Searching by Place reveals four potential results, Choosing the first option '1837-Present, Civil Registration District' turns out to be the best option.
Clearly, it's mis-labelled which is a very common problem with these records.
The option when selected reveals 110 records. At the bottom of the second page of 50 records there is an entry for Stoke Damerel, Devon – 1805-1808, Marriage Records, 401 images.
And there it is. Image 340 of 401 and entry no 2954 in the Parish Register.
I can provide a more complete transcription.
No. 2954. John Last, Seaman of His Majesty's Ship Penelope & Ann Aldern, of this parish, Widow married in this Church by Banns this Fourth Day of January in the Year One Thousand Eight Hundred and Eight By me John Hawker, Curate. This Marriage solemnized between Us followed by the marks of the bride and groom. In the Presence of Garland ???? and ? Wm Roberts.
There is useful information that is not on the transcription provided by Ancestry or Familysearch. We now have the occupation of John and his ship although not his civil status unlike Ann who is recorded as a widow.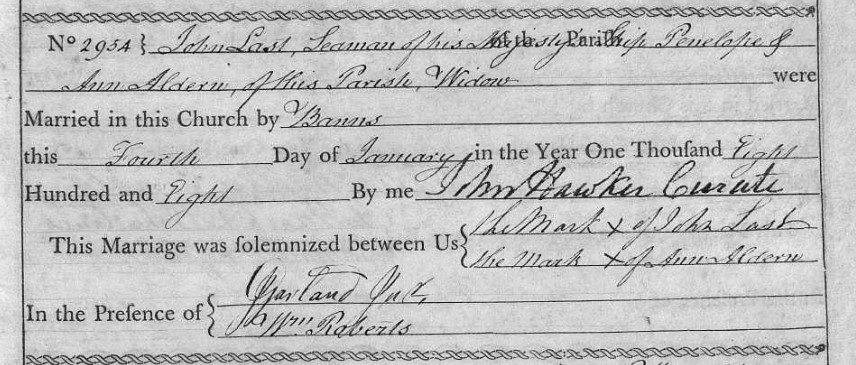 The Familysearch image archive provides a goldmine and diamond mine of genealogical gems. More to come including transcribed 16th century wills and land and marital disputes.